Cow dung dewatering machine is mainly used for removing extra water from fresh manure. Generally speaking, the water content of fresh manure usually is 80% to 90%, which increases the difficulty of management. With the help of manure dewatering plant, you can reduce the water content of fresh manure to 25%-40%. After dewatering, it is more convenient for you to make organic fertilizer from cow dung and direct transportation. As professional
manure to fertilizer machines
supplier, SEEC provide you two kinds of cow dung dewatering machines, including cow dung dewatering screw press machine and inclined screen for solid liquid separation. And you can choose suitable machines according to your actual conditions and requirements.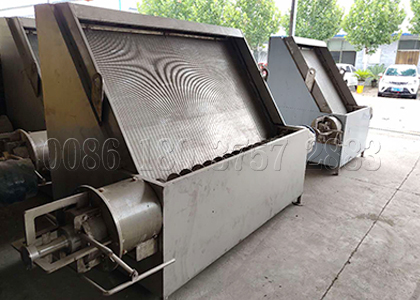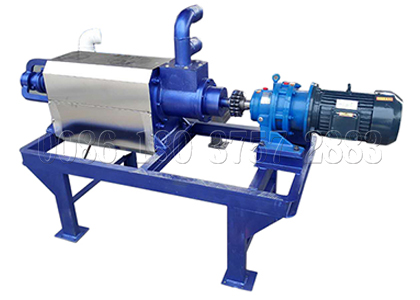 How does SEEC cow dung dewatering machines help you to make drier cow manure?
Both of them adopt screw extrusion to separate liquid from solid material. However, they also have some differences, such as structure, working process and requirements on raw materials. In the following parts, we will show you details.
The working process of cow dung dewatering screw press machine
Its main parts include motor, reducer, main body (screw rod and screen), materials inlet and pump. It is available for farm manure management. The pump will help you send manure with high water to the separator. Then, the screw rod will propel manure move forward. At the same time, separated liquid will flow out from mesh of the screen, and you can use it to make biogas or plants. With the accumulation of dewatered cow manure, the outlet for solid materials will be open. And you can collect cow manure from the outlet. In addition, the moisture of dewatered manure is adjustable, you can set suitable value. After management, you can use cow manure to make compost and organic fertilizer, or you can sell them in bags. In a word, this kind of manure separator is easy to operate and has higher working efficiency.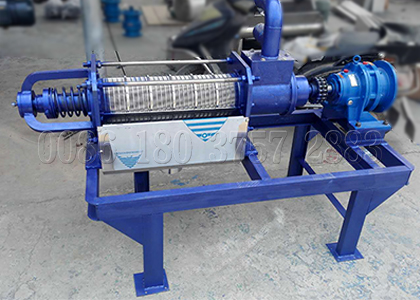 If you are interested in this machine, Please contact us!
The working principle of inclined screen for solid liquid separation
The inclined screen separator is suitable for dealing with organic waste with higher water content (about 90%), such manure cleaning by rinsing. Different with above-mentioned dewatering plant, it has an inclined screen, which will remove extra liquid quickly. Meanwhile, the solid material will stack on the bottom of inclined screen. As the quantity increases, the liquid manure will enter screw press machine for deeply dewatering. In view its capacity, you can adopt it in farm manure management (pig manure management and horse manure disposal), or to dispose biogas residue.
Why is SEEC solid liquid separation equipment your best choice to deal with cow manure?
As manure dewatering screw press manufacturer, we focus on provide high-quality and efficient equipment for our customers. Therefore, you can rest assured of our equipment. In addition, we also offer different models to meet different requirements from different customers. In terms of equipment itself, it has the following advantages:
Compact structure:

The design of whole machine is reasonable. It is easy for you to operate and clean.

High quality material:

All parts that contact with cow dung adopt SUS304, which guarantee the production capacity and longer service life. Besides, the screen adopts stainless steel with higher strength and performance.

Higher practicability:

It is available for dealing with various organic wastes with high moisture. What's more, its slag tapping quantity and dewatering level is adjustable, which can meet different requirements.
---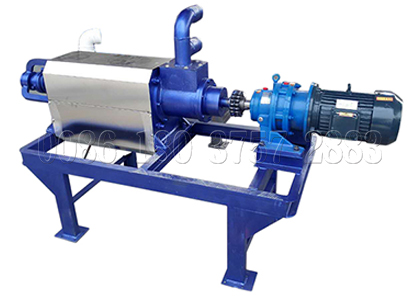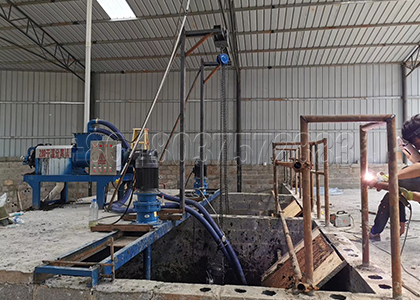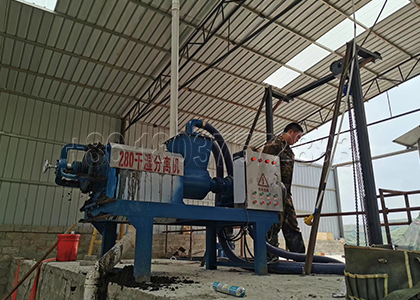 If you are interested in this machine, Please contact us!
---
Besides cow dung dewatering, where can you adopt SEEC manure separator?
As mentioned above, SEEC solid liquid separation machine mainly used for farm manure management. You can adopt it in pig farm, horse farm, dairy cow farm, so as to convert large amount of manure waste to drier manure for making extra profit. Because you can directly compost dewatered manure for making organic fertilizer, or you can also sell them to others. In addition to animal manure, it is suitable for dealing with the lees of wine, herb residue, biogas residue and so on. If you have other organic wastes with higher water content to dispose, you can sed your requirements to us. And our engineer will recommend suitable type and model. Furthermore, SEEC manure separator also plays an important role in manure to fertilizer production process, such as livestock manure fertilizer production.
---
What need your special attention during installation, use and maintenance?
For the installation of cow dung dewatering machine, you should choose flat ground. In this way, you can guarantee the stability of operation. In addition, if you install the manure separator in the open air, you should prepare a shelter for it, so as to protect machine from bad weather.
For every one or two months, you should clean the cylindrical screen and screw conveyor, so as to keep the high efficiency of whole machine.
In terms of maintenance, you should coat different parts with lubricant regularly. Meanwhile, you also need to replace wearing parts in time, so as to guarantee the normal operation of machines.
---
Some questions about our cow dung dewatering machine from our customer you need to know
1. Does it need high temperature to dewater materials?
No, just normal temperature. It works by motor, reducer, main body (screw rod and screen) to dry materials. In the process of its working, it doesn't need to heat. For its working principle, it decides our products without heater can do better.
2. How much water content is there after dehydration? And what is the next step?
After dewatering, the moisture can be reached to 30%. The next step is yo make organic fertilizer based on dewaterd materials. In order to make organic fertilizer, the solid manure need to make fermentation. During this process, you can add some fermentation strain to improve fertilizer efficiency. Then, there are two kinds of shape you can choose, granulation shape and powder fertilizer. Aiming to different purpose, you can choose different fertilizer production line. The former you can choose cow dung granulation production system. And the latter you can use cow dung powder fertilizer machine. It is up to you.
How about the cow dung dewatering machine price?
On the one hand, the cost of cow manure separator depends on the selection of different types. Different types machines are suitable for different conditions of organic waste. On the other hand, the capacity of equipment also decides the cost. Compared with other companies, our greatest advantage is that we have our factory. That is to say, you can visit our factory to know more about and process, and we can provide customized service for you.
FAQ about SEEC manure seperator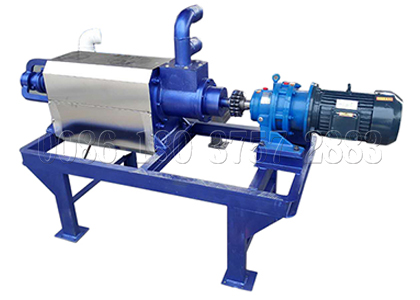 For dealing with high-moisture organic waste, the first step is to remove extra water. This kind of organic waste includes cow manure, pig manure and some farm wastes. By screw extrusion, it can realize the dehydration of organic wastes. Tongda  produces two types manure separators, solid liquid separator and inclined screen for solid liquid separation. According to our experience, we summarize the following questions. And we hope they are useful to you. Inclined screen for solid-liquid separation 1.  What's the capacity of manure separator? The input of organic waste: 8-15 cubic meters per hour. The output of dehydrated organic waste: 1.5-3 ...