Organic fertilizer production is an efficient way to deal with various organic waste, especially for animal manure. On the one hand, commercial animal manure fertilizer production is friendly to environment and can realize recycle of manure. On the other hand, it can create more profits to you with low-cost animal manure. For a farmer who want to make fertilizer from his farm waste, or a beginner in organic fertilizer industry, we recommend small scale organic fertilizer production line. It is easy to operate and needs less investment.
Solution One—Small scale compost manure fertilizer production line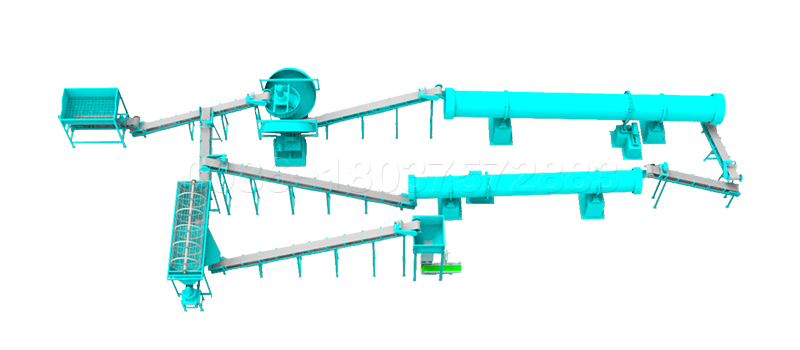 In this kind of production plan, you will get bagged powdery organic fertilizer. The main organic fertilizer production process including: composting organic waste(kill harmful substance and improve absorbability of nutrients in animal manure )—crushing and screening compost (make uniform and fine fertilizer powder)—mixing with other nutrients(improve fertilizer effect, you can select suitable addictive according nutrient requirements of application object )— packaging(make bagged organic fertilizer for sale). And the necessary machines used in small scale organic fertilizer production line are:
Small scale animal manure compost turning machine
By composting, you can use manure as organic fertilizer. Generally speaking, all of degradable organic waste can be composted. However, we recommend 60% animal manure (at least) and 40% other organic waste in compost piles, so as to guarantee final quality of compost. You can place animal manure and C-rich material (crushed straw, sawdust and rice hull, etc.) in fermentation grooves. Then our groove type compost turner will move on the grooves and turn them evenly, so as to adjust temperature and aerate it. In 20-30 days, you will get quality organic manure compost.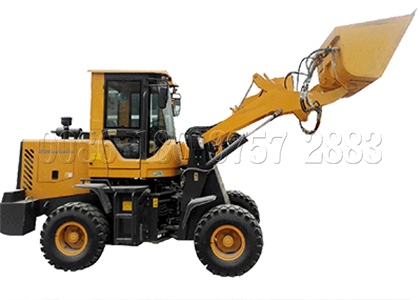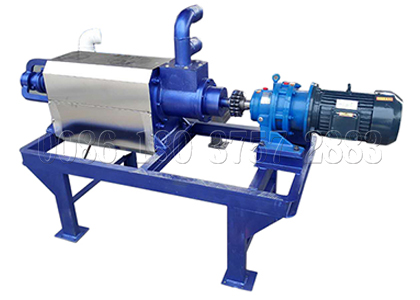 Note: Before composting, you need to adjust moisture to 50%-60%, so as to make sure good composting conditions. For manure with high moisture (such as cow dung, horse manure and pig manure), you can adopt SEEC manure separator to remove extra water. For poultry manure with lower moisture, you can adjust moisture by adding straw.
If you are interested in this equipment, please send your requirements to us!
Compost crusher and screen machine for dealing with small scale manure compost


Semi-wet Material Crusher
Introduction
Rotary Screen Machine
Introduction

SEECSF-40II semi-wet material crusher

Model: SEECSF-40
Power: 22 Kw
Production capacity: 1-1.5 t/h
Size of the whole machine: 1200*1350*900
SEEC SEECSF-40 semi-wet material crusher can be used to deal with biogas residue, composted animal manure and so on.
In organic fertilizer production process, semi-wet crusher is mainly used for eliminate caking and bulks in composted animal manure.

Screening machine for making animal waste compost

Model: SEECGS-1020
Power: 3 Kw
Production capacity: 1-2 t/h
Rotate speed: 21 r/min
Small Scale organic fertilizer mixer
For commercial organic fertilizer, the nutrient content in composted animal manure cannot reach standard. Therefore, you need add some other nutrient element to improve its fertilizer effect, such as functional bacteria, humus acid and so on. And the SEECPJ-1600 can mix them evenly before packaging.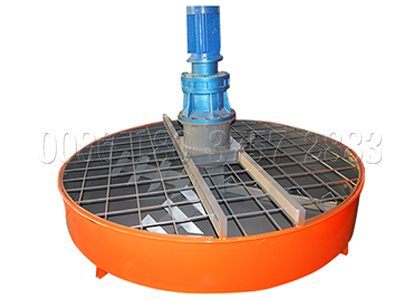 Organic fertilizer powder packaging machine
SEEC powdery fertilizer bagging machine is designed according to characteristics of powdery material. On the one hand, it can effectively inhibit material blockage. On the other hand, it can quantitatively weigh fertilizer powder, and finishing feeding and sewing with the help of one or two people.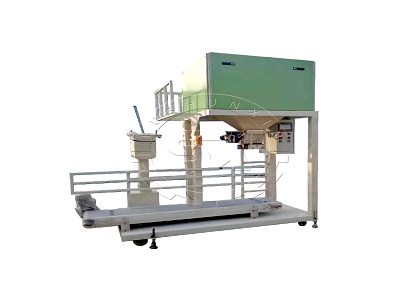 Note: Besides above-mentioned organic fertilizer powder making machines, there are still some accessory machines. They are belt conveyor, equipment used before packaging for temporarily storing compost and forklift feeding machine.
---
Solution Two—Manure pellets fertilizer production line with smaller output
Compared with fertilizer powder production, manure pellets fertilizer production is somewhat complex. But fertilizer pellets made from animal manure is more convenient in transportation, storage and application. The detailed process and needed machines of small scale organic fertilizer production here include:
---
Organic waste composting with small scale windrow compost turner
SEEC small scale windrow compost turner includes self-propelled compost turner and crawler type compost turner. Both of them can turn the compost pile evenly, so as to shorten fermentation time to 20-30 days. In addition, both of them just need one driver to operate and use diesel oil as fuel. They are suitable for composting various livestock manure and poultry manure.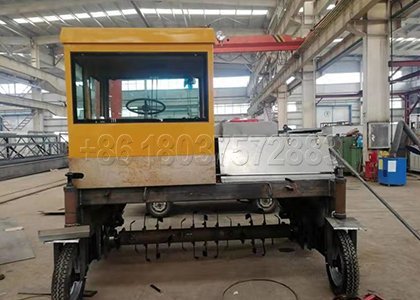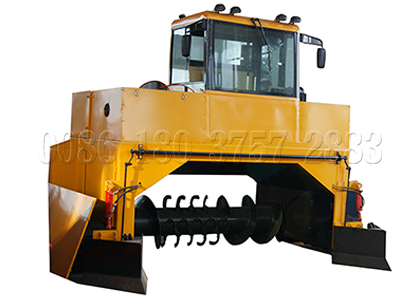 ---
Crushing, Screening, mixing process—New type vertical crusher, high-efficient screen machine and horizontal mixer
All of these three processes make preparations for granulating process. Crushing and screening process is used for making composted animal manure uniform and fine. And manure compost and addictive will be mixed evenly by SEEC fertilizer mixer.
New type vertical crusher (SEECFLF-600): Its production capacity is 3-5t/h. There are crushing plates and chains inside the crusher, which can fully crush materials into small particles. What's more, the size of crushed material is adjustable. There is an inspection window on the machine, which is convenient for maintenance.
Screen machine: It can be used before granulation and after granulation. Before granulation, it can guarantee the uniform and purity of compost. After granulating, it can select out oversized and undersized pellets, and send them back for secondary granulation by belt conveyor.
Horizontal mixer: The production capacity of SEECWJ-7015 is 2-3 t/h. There are two rotors which can blend materials evenly.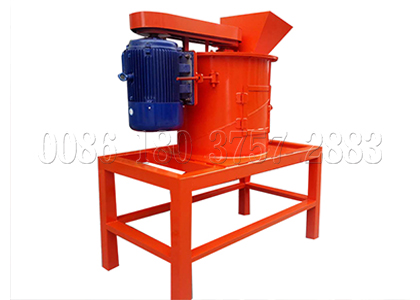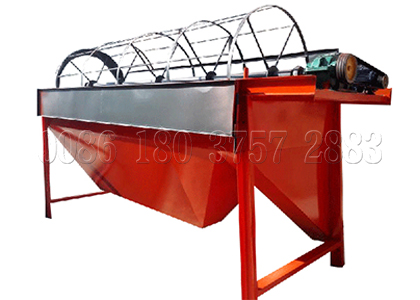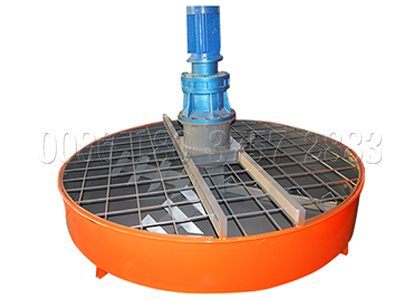 Do you want to know more details? Please send your requirements to us!
Granulating process with SEEC disc granulator/new type animal manure fertilizer granulator
Under the effect given by manure pellet making machine and water, animal manure compost will become spherical pellets in granulation process. Generally speaking, the moisture of animal manure compost for granulating is about 30%. Both disc granulator and new type organic fertilizer granulator are suitable for manufacturing fertilizer pellets.
Pan granulator: It utilize the centrifugal force generated from the rotation of disc and water to make quality fertilizer pellets. In addition, it is easy to operate and its granulation rate can achieve 93%.
Newly designed organic fertilizer granulator: It is the patent product in SEEC. It makes fertilizer into pellets by aerodynamic force produced by the rotation of turning tooth and proper moisture. In addition, there are three inspection windows for you to maintain and replace turning tooth in time.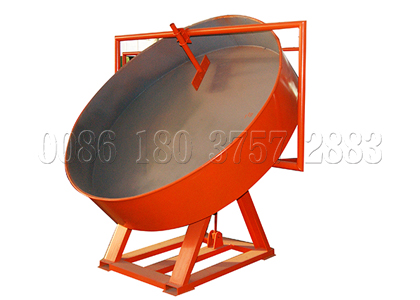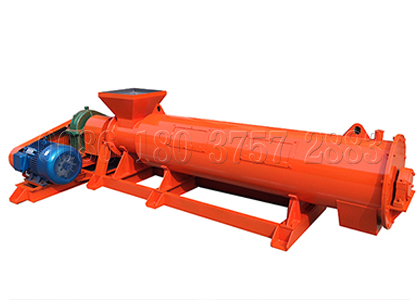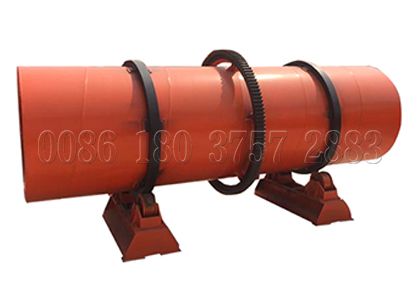 Packing process for making fertilizer of 25 kg/bag or 50kg/bag
In this process, belt conveyor will send fertilizer pellets to packing machine. Then, the equipment will finish weighing, feeding and sewing. You just need to designate one person to prepare bags and one person to make bags go through sewing device steadily. What's more, there are single-bucket bagging machine and double-bucket bagging machine for you to choose. The latter can fill bags with fertilizer of different weight at the same time. You can select one of them according to your actual conditions.
Note: Optional organic fertilizer production equipment in small scale granular organic fertilizer production line—cooling and drying machine (to guarantee the moisture of granulated fertilizer is not more than 10%) and belt conveyor (to make sure continuous production).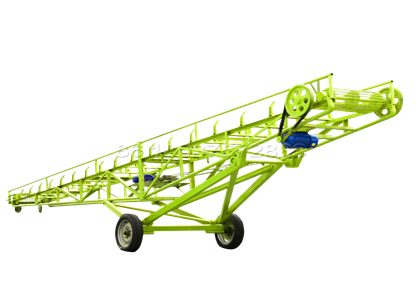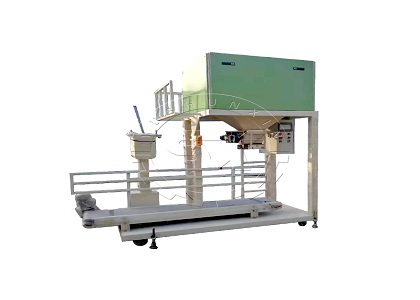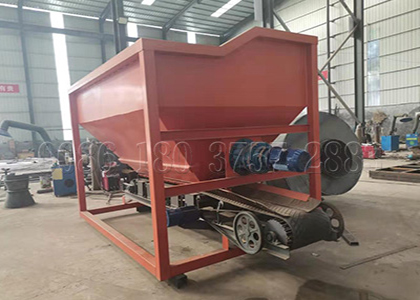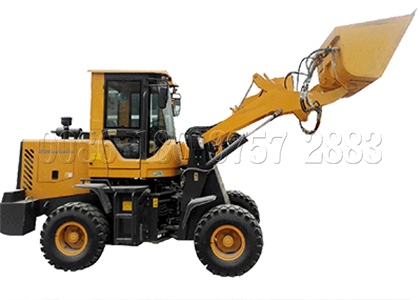 ---
How to start small scale organic fertilizer production business?
When you start a small scale organic fertilizer production business, you need to consider the following factors. In this way, you can produce salable organic fertilizer, make profits from animal manure and other organic wastes under lower investment.
Know about source of organic waste and local requirements on organic fertilizer. You can collect raw materials for making fertilizer from places nearby your factory. If you have a farm, you can directly use wastes generated from your farm. Then you should investigate the requirements of local soil and plants on nutrients, so as to produce suitable fertilizer.
Selection of site and equipment: On the one hand, you can select a place to composting animal waste and produce organic fertilizer. On the other hand, the site should be far away from residential area, but it should have convenient traffic. For the equipment purchase and cost, you can inquire us.
Do you want to know more details? Please send your requirements to us!
What things need your more attention during building small scale organic fertilizer production line?
For composting animal manure and placing compost piles, you should choose open sheds. In this way, good ventilation can dissipate odor of manure quickly. And sheds can prevent equipment from bad weather, so as to prolong their service life.
The ground for placing equipment should be concrete, so as to provide steady support for operation of equipment. At the same time, it can efficiently prevent animal manure from polluting soil and water.
You should to prepare a warehouse to place composted animal manure. Several days' stabilization is necessary for fermented animal manure.
In terms of the selection of organic fertilizer manufacturing machines, you can inquire professional manufacturer of manure to fertilizer equipment for advice. You can send your requirements to us, and our engineer can provide you detailed small scale organic fertilizer production plan, according to your budget, volume of raw material and site space.
How much about making small scale organic fertilizer production?
How to get low cost to get high capacity organic fertilizer production. There are several tips you should concern about producing small scale organic fertilizer production.
1. Covered area required for small scale organic fertilizer production line. As we known, small scale organic fertilizer production decides we should use small scale fertilizer line for small fertilizer plants. Obviously, how much land area required for small scale organic fertilizer production decides the cost of small scale organic fertilizer line. Which kind size of fertilizer equipment can be choose? Therefore, it is the important factor in making small organic fertilizer production.
2. The way to obtain raw materials. As a businessman, the lowest cost can get high returns. If you have you own farms, the investment of fertilizer industry costs so low. Meanwhile, it is the best condition to start small scale organic fertilizer business. However, the materials you must buy from others, it can increase cost for you. Think about the problem seriously.
3. Optional fertilizer equipment suppliers. For organic fertiliser manufacturing, reliable manufacturers not a third agency is a key to succeed. For example, our company has our own factory, engineers, sales team to offer you professional and advanced technology and one-stop service with high quality. Finally, meeting your requirements is our final goal. However, for a third parties agency, they can not offer you direct and effective service. At the same time, the quality reputation can not compare with fertilizer suppliers. The most important that is the price of products is higher. Therefore, best manufacture can help you decrease budget. Why not choose our company? We are waiting for you .