Cow dung powder fertilizer production is an efficient way to deal with cow manure. Meanwhile, this production is easy to operate. You can adopt cow dung powder making machine in this process, which will accelerate production process and improve quality. On the one hand, you can make dry cow dung powder after dewatering and drying. On the other hand, you can make commercial fertilizer powder from cow dung, after composting, crushing, screening and packaging. SEEC can provide you multiple useful machines.
In order to make cow dung powder fertilizer, what works should you do?
Before making cow dung powder, knowing about procedures and auxiliary machines is necessary. Cow dung powder fertilizer is a kind of commercial organic fertilizer made from cow manure. Its making process is simple, and it needs fewer fertilizer making machines. Among them, the complete procedures include composting cow dung, crushing cow dung compost, screening process and packing process.
---
Composting process—for making useful and harmless cow manure compost
Composting is a process, where microorganisms convert compound organic materials to simple substance and produce a lot of heat. On the one hand, the structure of cow dung will become loose after composting.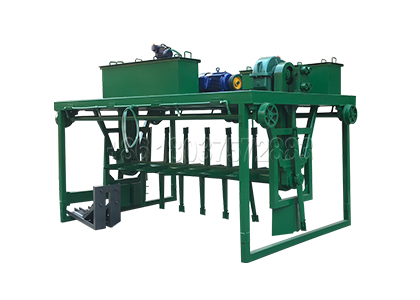 Meanwhile, the successful composting will make cow dung into powdery compost. On the other hand, the produced heat will kill pathogens, worm eggs and weed seeds in cow dung, so as to reach the harmless treatment.
Crushing process— for making fermented cow dung into fine and uniform powder
The role of crushing process is to deal with potential caking in fermented cow dung. Because the long-time stacking of cow dung during composting will cause bulks inside the compost pile. In this process, compost crusher is essential. It not only can crush large amount of cow dung compost into small particles in a short time, but also can save workforce and improve working efficiency. In addition, crushing process is important for both cow dung powder fertilizer production and granular cow dung fertilizer production.
Screening process—for selecting impurities and powder of lager size
In the screening process, impurities and over-sized particles will be selected out. That is to say, you can get uniform cow dung powder without impurities after this process. Just like crushing process, you also need to adopt machines—compost screen in this process. For dealing with large amount of cow dung compost, compost screen machine not only can save time and workforce, but also can make quality cow dung powder.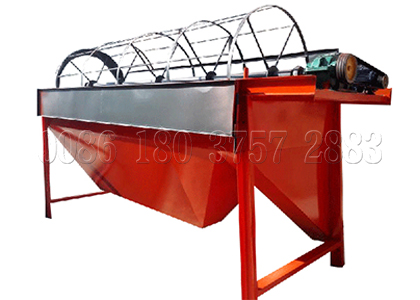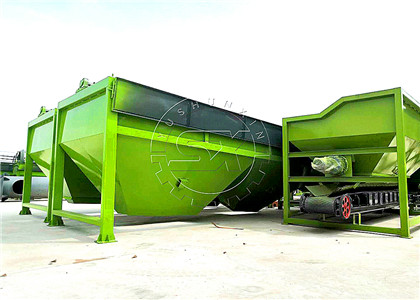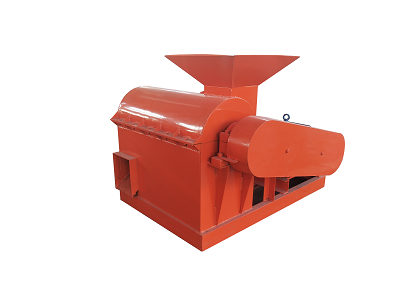 Batching and mixing process—for adding other nutrients and increasing fertilizer effect
The nutrient content in pure cow dung compost is not enough to be used as commercial fertilizer. Generally speaking, cow manure compost is good base fertilizer for soil and plants. Therefore, if you want to produce commercial fertilizer, you need to add proper nutrient elements according to local soil conditions. In order to control the ratio of additive, you can adopt batching system, which can finish the batching of two types materials or more. At the same time, fertilizer mixing machine can help you to blend addictive and cow dung compost evenly.
Packing process— for making bagged commercial cow dung fertilizer powder
In terms of commercial cow dung powder fertilizer, packing is important. Bagged fertilizer powder is convenient for transportation and storage. After composting, crushing and screening, cow dung has become quality fertilizer. You can use SEEC fertilizer packaging machine to bag cow dung powder fertilizer. SEEC fertilizer packing machine can produce fertilizer with 25kg/bag and 50kg/bag. What's more, it can finish the filling, weighing and sealing of bagged fertilizer. You just need to designate 2 persons in this process.
---
What's kinds of cow dung powder making machine can SEEC provide you?
SEEC cow dung dewatering machine for dealing with fresh manure in a short time
As we all know, the moisture of fresh cow dung can reach 80%. It is not easy for you to make cow dung powder from fresh cow manure directly. Your priority is to dewater it. SEEC manure separator is a kind of cow manure powder making machine, specially used for removing extra water from cow dung. Its working principle is screw extrusion. The moisture of dewatered cow dung can achieve 30% to 40%. In addition, the waste water separated from fresh cow dung can be used to make biogas. You can also use it in pig manure management as well as cow dung fertilizer production.
---
Composting equipment for making quality cow dung compost powder
Composting is another important method to deal with cow dung. Compost turning machine is one of cow dung powder making machines, which can accelerate composting process and improve the quality of cow dung compost. According to the difference between composting methods, SEEC can provide you two types compost turners. They are compost windrow turner for windrow composting and groove type compost turner for composting in the fermentation groove. Windrow compost turner can turn cow dung piled in long rows evenly. But it needs large space and is suitable for dealing with large scale cow dung. In terms of groove type compost turner, it will move on the walls of fermentation grooves. Its turning teeth on the rotary shaft will crush caking into small particles, blend raw materials evenly and make them contact with air fully. Via compost turner, you can get cow dung compost in 20 to 30 days.
---
Multiple compost crusher for making uniform and fine cow dung powder
New type vertical crusher with higher crushing strength
As an important cow dung powder making machine, SEEC new type vertical crusher has higher crushing strength. Its crushing capacity from the crushing blades and chains. When it works, the material enters the machine from the top and discharges from the bottom. Furthermore, its crushing blades adopts special material, which has longer service life. In addition, there is an observation window in the main body, so it is convenient for you to replace wearing parts.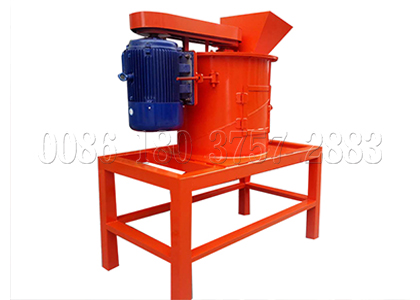 Model
Powder (Kw)
Production Capacity
Size of Feed Inlet (mm)

Overall

Dimension (mm)

SEECFLF-600
22
3-5 t/h
400*400
1300*750*1900
SEECFLF-800
30
5-8 t/h
600*400
1800*1020*2100
SEECFLF-1000
37
8-15 t/h
650*450
1800*1200*2500
Semi-wet material crusher for dealing with cow dung with higher moisture
Its big advantage is to deal with organic waste with higher water content. In addition to cow manure, it is also suitable for vegetable waste, food waste, garden waste and so on. Besides high-moisture organic waste crusher machine, you can also call it organic waste pulverizer. Its compact structure and crushing capacity can greatly improve working efficiency.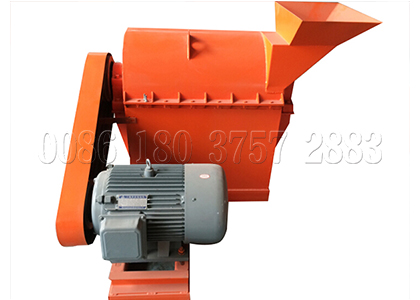 Model
Power (Kw)
Production Capacity
Grinding Particle Size
Size of Feed Inlet (mm)

Overall

Dimension (mm)

SEECSF-40
22
1-1.5 t/h
50 mesh
400*240
1200*1350*900
SEECSF-40 II
22*2
1-1.5 t/h
80 mesh
400*240
1200*1600*1300
SEECSF-60
30
1.5-3 t/h
50 mesh
500*300
1300*1450*1300
SEECSF-60 II
30*2
1.5-3 t/h
80 mesh
500*300
1500*2150*1920
SEECSF-90
37
3-5 t/h
50 mesh
550*410
1800*1550*1700
SEECSF-120
75
5-8 t/h
50 mesh
650*500
2100*2600*2130
If you want to know more details , you can contact us!
Hammer crusher for large scale cow dung powder production
During working process, the high-speed rotating crushing hammer will strike organic waste and make them into smaller particles. At the same time, crushed materials will drop down to screening part. The material with small diameters will discharge from the machine. And the larger particles will be remained for secondary crush. It will be your first choice in the large-scale cow dung fertilizer powder production.
Application of cow dung powder making machines in dairy farm manure management
Cow dung powder making machines are efficient equipment for you to deal with large amount of cow manure. For dairy farm manure management, you can adopt manure separator and rotary drum drying machine to make cow dung powder with lower water content, and then sell them to others. On the other hand, you can also make your own organic fertilizer from cow dung, which can make more profits for you. Firstly, you can adopt SEEC compost turner to make quality cow dung compost, which can be used as fertilizer to soil and plants directly. In order to provide convenience for storage and transportation, you can make bagged cow dung powder after crushing and screening. If you have no idea and do not know how to choose suitable cow dung powder making machines, you can contact us for getting professional plan and advice.
How to deal with the wet cow dung before making cow manure compost?
Aiming to get dry cow manure fertilizer, our company has designed dewatering screw press machine to solve this problem. Fertilizer dewatering machine is very useful in the process of making powder fertilizer production line. Manure dewatering equipment can separate dry and wet cow dung quickly. After dewatering by this machine, it can decrease water content from wet cow dung manure to 30% to make preparation for making fertilizer in your farm. So, it is very convenient for transportation as raw materials to make organic fertilizer. At the same time, it can make water content meet different needs. Therefore, it is the necessary fertilizer equipment for you to use before making organic fertilizer. Why not get one now? If you have any questions, please contact us as soon as possible.